Toutes les récompenses ont été envoyé entre ce vendredi 23 octobre et lundi 26 octobre 2015.
La dotation globale s'élève à 468.000 planets.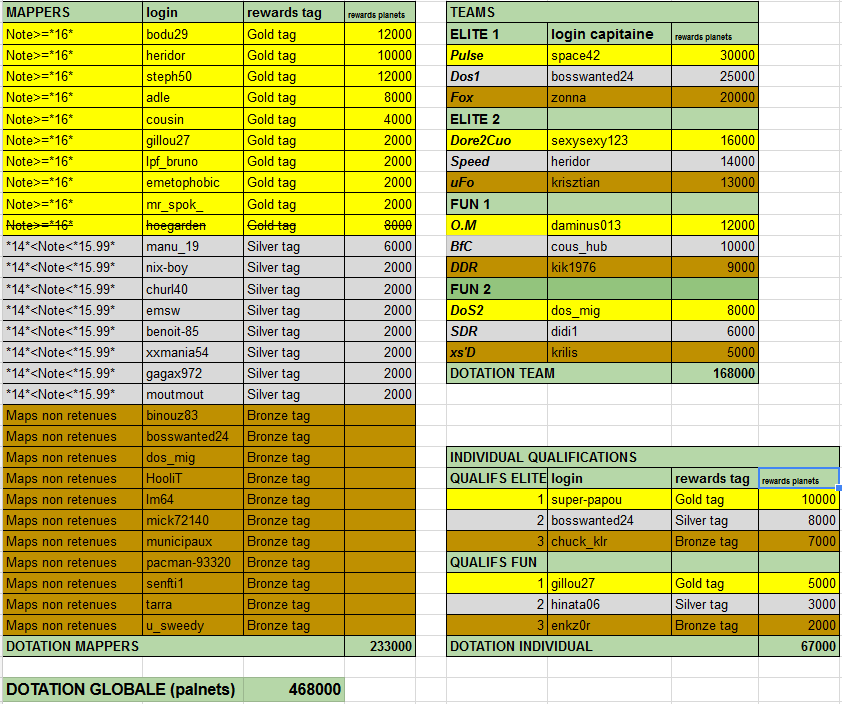 Le mappeur du login "hoegarden" ne peut pas recevoir ces récompenses (ni tag ni planets), compte gratuit ? Si la personne désire se dévoiler par mp éventuellement, nous pourrons lui envoyer son dû sur un autre compte.
Le mappeur Nix-boy reçoit une récompense même si sa map n'a pas été jouée. Celle-ci figurait dans un pack de secours. Sans revenir sur les explications claires de Guileboom à ce sujet, la map figurant dans notre sélection finale, nous nous devions de récompenser le travail du mappeur.
Merci à tous pour votre participation et votre fair-play pour cette saison passée !
A bientôt,
Le staff SLIP/Spam.
So all gifts were send Friday 23 october and 26 october.
For the mapper "hoegarden" we can not send any planets or send the tag, beacuse it's a free account, so if the main player of this account has an other account pls sent us a pm and we will send everything on your main account m8.

Bo$$Playa

Staff




Messages

: 797


Age

: 44



Bravo à tous !!

Et Bravo aux SPAM pour cette belle Edition VI du SLIP !!!


Congrats to all !!

And CONGRATS TO SPAM for this nice SLIP Edition VI !!!

Mig & DoS Team.

_________________
Pleasure, Fairplay ... and Rage !!!
En tout cas je tiens à vous féliciter, c'était une belle compétition avec du bon, voir très bon niveau !

Bonne fin de journée
Nix

nix-boy

Player




Messages

: 30


Age

: 23



Un grand merci à vous et à toute les équipes pour leur participation sans qui rien ne serais possible à bientôt sur les pistes
Yep, merci à vous pour l'organisation (et j'ai bien reçu les planets :p)

A bientôt sur les pistes en attendant de monter au 7ème SLIP ! =)

Space

Player




Messages

: 72


Age

: 24



Bravo a vous pour l'organisation !
La SLIP VI est morte vive la SLIP VII


PhantOM51

Capitaine




Messages

: 17


Age

: 50



Space wrote:
A bientôt sur les pistes en attendant de monter au 7ème SLIP ! =)
Joliiii Space

Tu as trouvé la phrase d'accroche pour la prochaine saison !!


Bo$$Playa

Staff




Messages

: 797


Age

: 44



Thanks to all !!

Very special thanks to the organizers...TO SPAM for this nice SLIP Edition VI !


Didi and the hole SDR Team


Similar topics
---
Permissions in this forum:
You
cannot
reply to topics in this forum